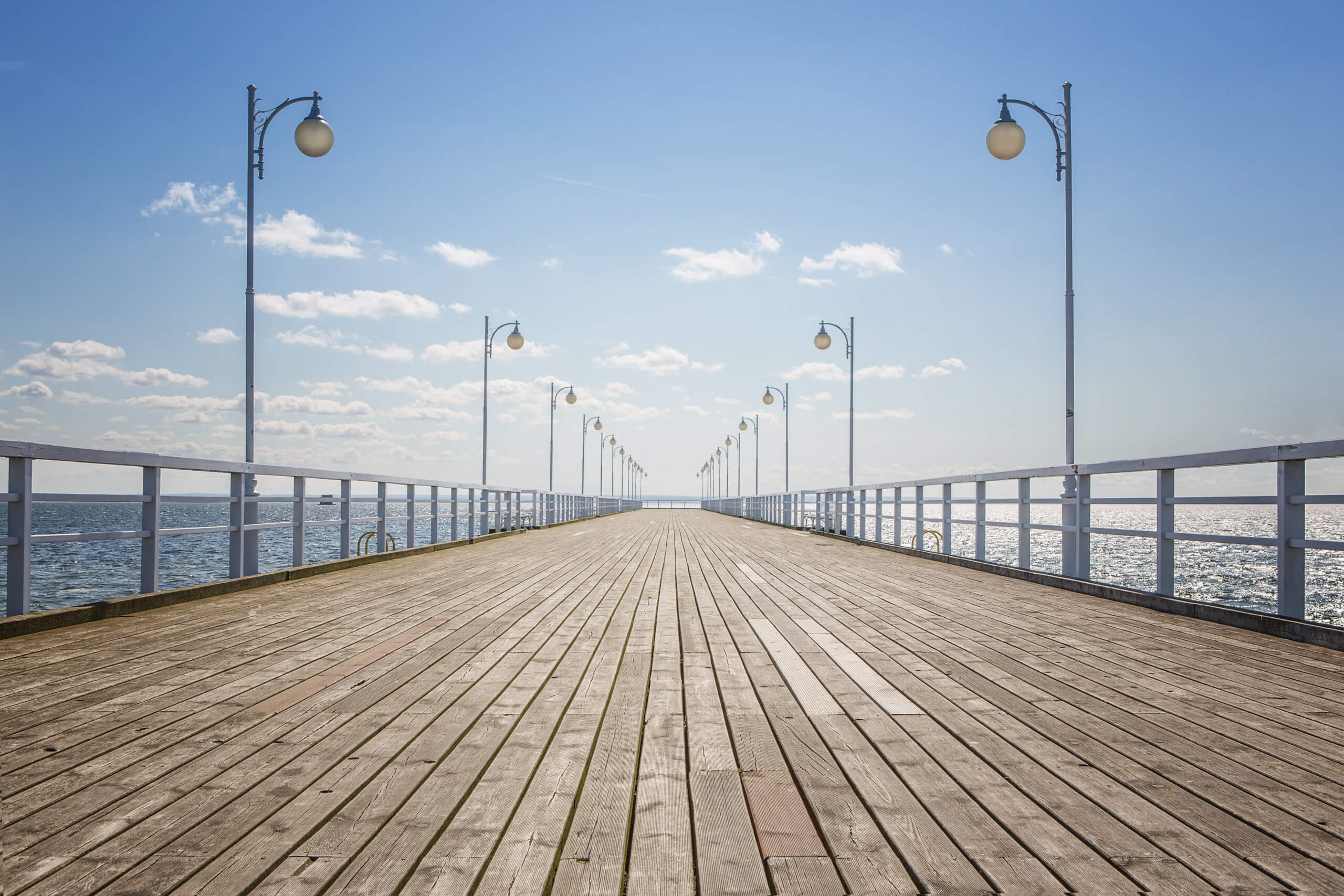 The Crystal Pier located at 703 S Lumina Ave, Wrightsville Beach, NC 28480, is an unforgettable outdoor dining experience, as well as a free walking or fishing pier that extends 475 feet into the Atlantic Ocean. If you need a bite to eat and enjoy a beautiful waterfront view, this is the place to be.
The fishing and walking section of the pier is accessed by the steps at the base of the pier, while the Oceanic Restaurant offers access to the dining area, bar, and outdoor live music listening location. The pier is the ideal location for a sunset stroll to enjoy the ocean breeze.
The pier can also be reserved through the Oceanic Restaurant for private events, such as wedding ceremonies, or public events such as pay per session Yoga. How could a yoga session with the calming sounds of the ocean possibly get more relaxing? The pier is open to the public from 6 am to 9 pm unless a private event has reserved the location.
Opened in 1990, The Oceanic opened its doors to welcome guests near and far. But this restaurant's history goes further back than that. The Oceanic's roots date back to 1939 when the Crystal Pier was originally built and when Wrightsville Beach started to become a thriving destination for locals, families, and friends out to the beach. The popular restaurant has become a special place for celebrations, drinks on the water, or a favorite spot on the beach for over 80 years. You will need to make a stop here on your trip!
Since its opening, coastal residents and guests have come to love the fish house. To this day, Oceanic is the only restaurant on Wrightsville Beach along the Atlantic Ocean. The breathtaking views of the sparkling water and access to local fisheries make Oceanic a must-visit restaurant for anyone visiting the area.
Be prepared to have your mouth water, because the menu at the Oceanic is to die for. This restaurant bases its menu on utilizing local seafood whenever possible. Tuna, little neck clams, oysters, flounder, and Mahi Mahi are just an idea of what you can expect from the Chef of Oceanic.
With so many ways to enjoy the Crystal Pier, it's a must for the summer season. This location is perfect for a sunny day, or you can enjoy a romantic dinner for two while watching the waves crash against the pier. The options are endless at this wonderful spot!