Do I Need a Roof Repair or Replacement?
Ian Kaplan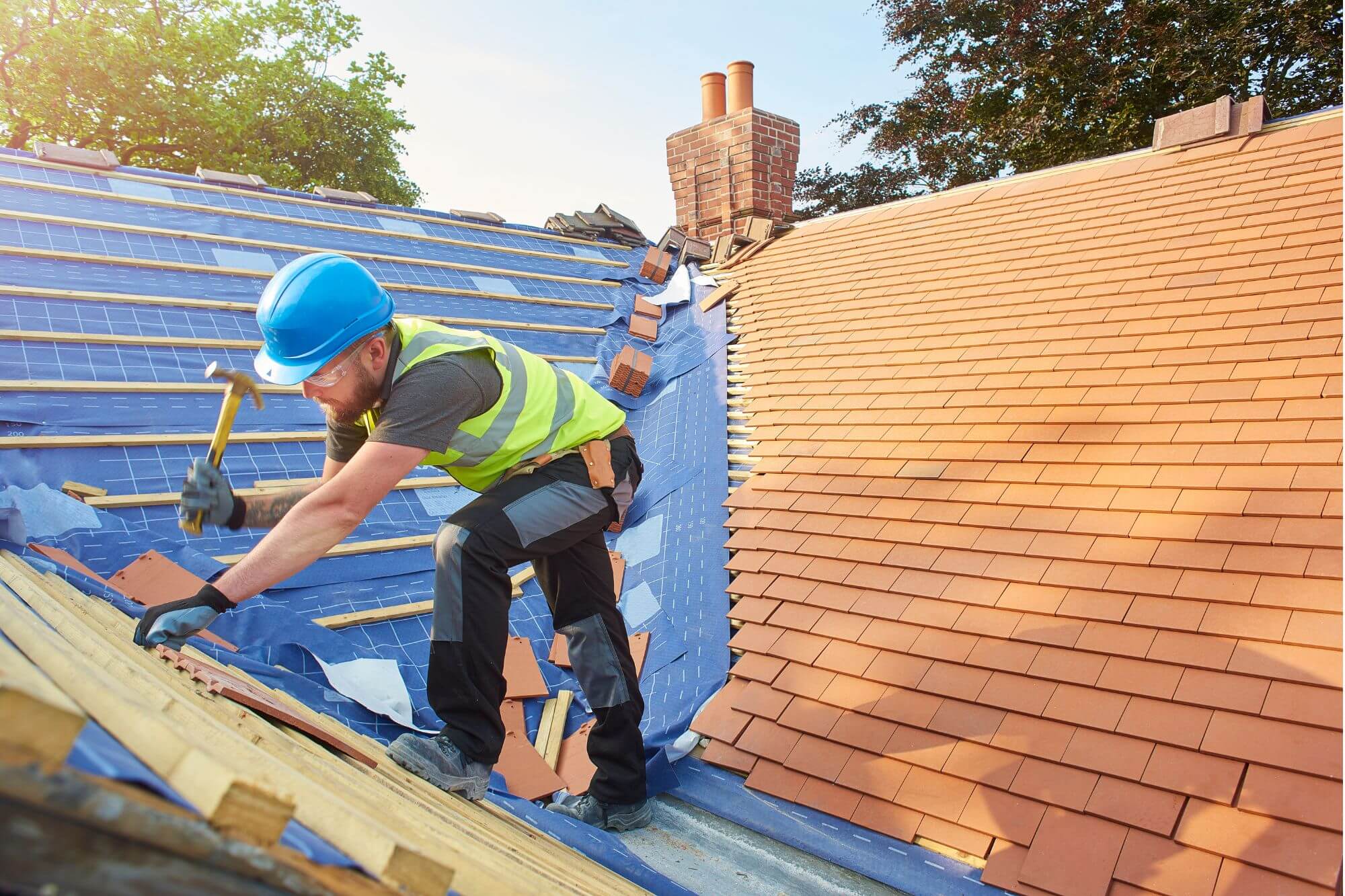 If you're unsure whether you need roof repairs or a roof replacement, there are a few things you can do to help you decide. In today's article, we will give you tips on how to assess your roof for damages, how to file a claim with your insurance, and how to find a reputable roofing company to repair your roof or install a new roof.
Let's get started!
How to Assess Your Roof for Damages
Let's start out by telling you just exactly how you can inspect your roof and roof deck for damages. If you've lived in your home long enough, you'll probably be able to tell if you need to repair or replace your roof. If not, or if you're unsure, we've got four great tips for you here:
Conduct a Visual Inspection of the Roof's Surface
First, take a close look at your roof for missing or out-of-place shingles. Look to see if your shingles are curling or really faded in different areas of the roof. This rule applies mainly to asphalt shingles. For a metal roof or a roof made from a different roofing material like slate shingles, you'll want to look for cracks, missing sections, and holes. You can do this by standing out in the yard with a pair of binoculars or a zoom camera. Or, you can use a drone.
If a majority of your shingles are curling or cracked, or if there are more than a few out of place, it might be time for a full roof replacement. You might be able to get away with some new shingles here and there, but if many are curling, it usually means the rest are on their last leg too.
We do not recommend climbing on your roof under any circumstances, especially on crumbling shingled roofs and slippery metal roofs. That is very dangerous. Hire a professional if you really want someone to get up there. Many local roofers offer free roof inspections and estimates, so take advantage of that and keep yourself safe on the ground.
Conduct a Visual Inspection From Inside Your Home
Next, go inside and peak into the attic. You're going to be checking for a roof leak. Keep the lights off at first, and check the ceiling and roof deck for any signs of natural light seeping through the roof. If there's a hole, you obviously want to get that fixed ASAP. After you've scoured the roofline for light leaks, you need to flip on the lights and check for water leaks. You can do this by looking for any dark spots or leftover water spots along the roofline, rafters, and walls.
If there is any leaking, you'll want to nip that in the bud right away. It may be as simple as patching a small hole, but there is a chance you'll need to replace the roof. Mold and water damage are the bane of any home no matter where the water is coming in, so take any leakage seriously.
Get Your Roof a Check-Up
If your roof is more than 20 years old, you should definitely have it inspected, even if you haven't noticed any issues. Roofs generally last more than 20 years, but the lifespan can be cut short by extreme weather conditions, sun exposure, and lack of regular maintenance. So, give your roof a checkup around the 20-year mark.
Hire a Professional Roofing Contractor
If you don't feel confident about inspecting the roofing material yourself, you can call a professional roofing company to inspect your roof. A professional roofing contractor will be able to identify any current or potential problems with your roof and give you an estimate of the cost of repairs or a full roof replacement.
Homeowners Insurance
Roof insurance is mostly designed for unexpected and natural disasters. It is not designed to repair or replace your roof in the event of normal wear and tear. For that, you'll want to check with the manufacturer or your roofing materials and inquire about their warranty to find out its duration and what it covers. For today, we are going to discuss the events that are specifically covered by roof insurance. Let's dive in!
Covered Events
In most cases, your homeowners insurance will cover the cost of repairing or replacing your roof if it is damaged by fire, wind, hail, or other covered perils. These are considered unexpected and unpreventable instances. So, for example, if your neighborhood experiences hail damage or a wind storm that dislodges several of your asphalt roofing shingles, you may have that damage covered by your roof insurance company.
Many times people just need some minor to moderate roof repair. However, sometimes they rely on their insurance company to cover the costs of the roof replacement process.
Events That Aren't Covered
There are several types of events that are not covered by insurance policies. For example, if you have a leaky roof that is in poor condition, most homeowners insurance policies will refuse to pay for repairs or a new roof. Additionally, most policies have a deductible that you will need to pay before your coverage kicks in. If you're unfamiliar with a deductible, it's basically a set amount of money that you have to pay out of pocket to repair damages before the insurance coverage will kick in and cover the rest.
If you're not sure whether your policy covers roof damage or new roof installation, the best thing to do is check with your insurance agent or company. They'll be able to tell you what roof repairs are covered and help you file a claim if necessary. Make sure you do this preemptively before any damage occurs, or right after the damage occurs. Don't wait several days or weeks to report the damage to the insurance company, or they may get suspicious.
Filing a Roof Insurance Claim
Property insurance claims are not as complicated as they seem, especially if you have the right company on your side. Today, aside from the obvious steps, we will break down the insurance claims process to show you just how manageable it can be.
Prep Your Property
Prior to reaching out to your insurance company to file a homeowners insurance claim for a roof replacement, you will want to make sure your property looks its best by fixing any potential hazards like broken gutters or missing downspouts that might keep them from accepting your claim. You also want to get rid of any excess debris or personal property that could be seen as a safety hazard (or simply get in the way).
Document Property Damage
When it comes time to actually contact your insurance company, you will need proof of the damage that has been done to your property. Better yet, you should take plenty of photos before making contact with your insurance provider so there is no question about the extent of the damage. You do not want to be stuck arguing over the damages, so make sure you have plenty of evidence.
Log Correspondence
When you claim on your policy, your insurance company will contact you shortly afterward to set up an inspection. It's critical that you keep track of all the information and documents you're given at this time, as well as any others that are sent to you.
Keeping track of every conversation is the most effective approach to guarantee nothing is forgotten in translation, which will be particularly essential as you prepare for your claim's resolution. It'll also come in handy when it comes time to pay your insurance premiums, any short-term repairs that are made throughout the procedure, and any insurance payments that come through because these factors influence your future rates.
Continue to Maintain Your Property
Following an assessment, your insurance firm and the adjuster will most likely provide you with a temporary authorization allowing you to use your claim money towards repairs. Homeowners insurance firms will want to ensure that any work carried out is in accordance with their standards for safety and security.
When the time comes to repair or replace your roof, it's critical to make sure your home is clear of debris and in good working order. If you have any questions about whether a policy violation has occurred, consult with the inspector before proceeding.
Proceed With Caution
Taking care of everything as you go and always double-checking every detail is the greatest way to avoid finding any unpleasant surprises later on. Property insurance claims are difficult enough without having to worry about being taken advantage of or making mistakes due to carelessness on your part.
Working with a competent roofing company, such as Summit Roofing & Construction, to go through this procedure swiftly and simply while avoiding expensive mistakes in judgment will aid you in making the best decision for your home.
How You Can Prevent Damages to Your Roof
Here are some helpful tips to help you avoid roof damage:
Leaves and debris should be removed from gutters and downspouts.
Make sure your roof is well-ventilated to avoid moisture accumulation.
Regularly inspect your roof for signs of wear and tear, such as missing shingles.
Remove trees and branches that could fall on your roof during a storm.
You can reduce the chance of needing to file a claim for roof damage by following these recommendations. If you're uncomfortable performing basic maintenance on your own, if your entire roof needs to be replaced, or if you detect any significant damage on your roof that must be addressed, get in touch with a professional local roofing business like Summit Roofing & Construction in Wilmington, NC today.
We Don't Recommend DIY Roof Repairs
Inspections and repairs are best left to the professionals. If you're thinking about doing it yourself, think again! This sort of work requires abilities and education that only trained technicians have. Roof damage isn't always apparent. It's not always as simple as recognizing holes or missing shingles on the roof. Furthermore, if you attempt a repair on your own and don't do it correctly, you might end up spending more money to fix your mistakes than you would've in the first place if you would've just hired a professional.
When it comes to roof damage, hiring a professional roofing business is almost always required. Prepare to work with your insurance and roofing contractors. Yes, it may appear like a large expense now, but in the long run, it will save you time and money.
Is It Time to Call the Professionals?
When your roof begins to show signs of deterioration, it's time to contact a professional roof repair company. But there are so many businesses out there. How do you know which one to trust? Here are some pointers to help you select the best roof repair business for your needs:
Look Online
Take some time to check out reviews about each firm once you've got a few options. This can provide you with an indication of what other people have said about them, as well as which company might be a good fit for your needs.
Ask Your Friends and Family
Ask your friends and family if they've had their roofs replaced recently. Inquire about the roof repair company that was used and whether they were pleased with the end results. This is an excellent way to find reliable repair companies.
Use Local Companies
After a major storm, swarms of out-of-town roof repair companies will typically descend on the region to provide roof repair services. While they may be able to do an excellent job, it is always preferable to choose someone local so you can establish a relationship and have someone you can trust nearby in case issues arise.
Speak With Several Local Companies
After you've narrowed your list of potential businesses, call each one and talk to the representatives about your problem. This will give you an indication of how knowledgeable they are about roofing materials, roof repair, and roof replacement processes, and it will give you an idea of the quality of services they offer.
Is the Roofing Contractor Licensed and Insured?
This is crucial! You need to ensure that the roof repair business you want to work with is covered by insurance in case something goes wrong during the repair process. Furthermore, make sure the firm has the appropriate licenses to operate in your state or area.
It's Always Better to Have It in Writing
Make sure you receive a written estimate of the cost of the roof repair work before it begins. There will be no unpleasant surprises later on if you get one in advance. Also, make sure you have a clear, written contract detailing the services that they will provide before they begin working.
Ready to Tackle Your Roof Replacement or Repairs?
Roof repairs are never fun to deal with, but they're a reality for many homeowners. If you find yourself in the position of needing a roof replacement, the best thing you can do is to contact a professional roofing company as soon as possible. With their help, your roof will be repaired or replaced quickly and efficiently so you can get back to your life.
Start your search for professional roofing contractors with Summit Roofing & Construction in Wilmington, NC. They're your premier residential roofing repair and replacement specialists. Request a free estimate from them today.