Fort Fisher State Recreation Area
Ian Kaplan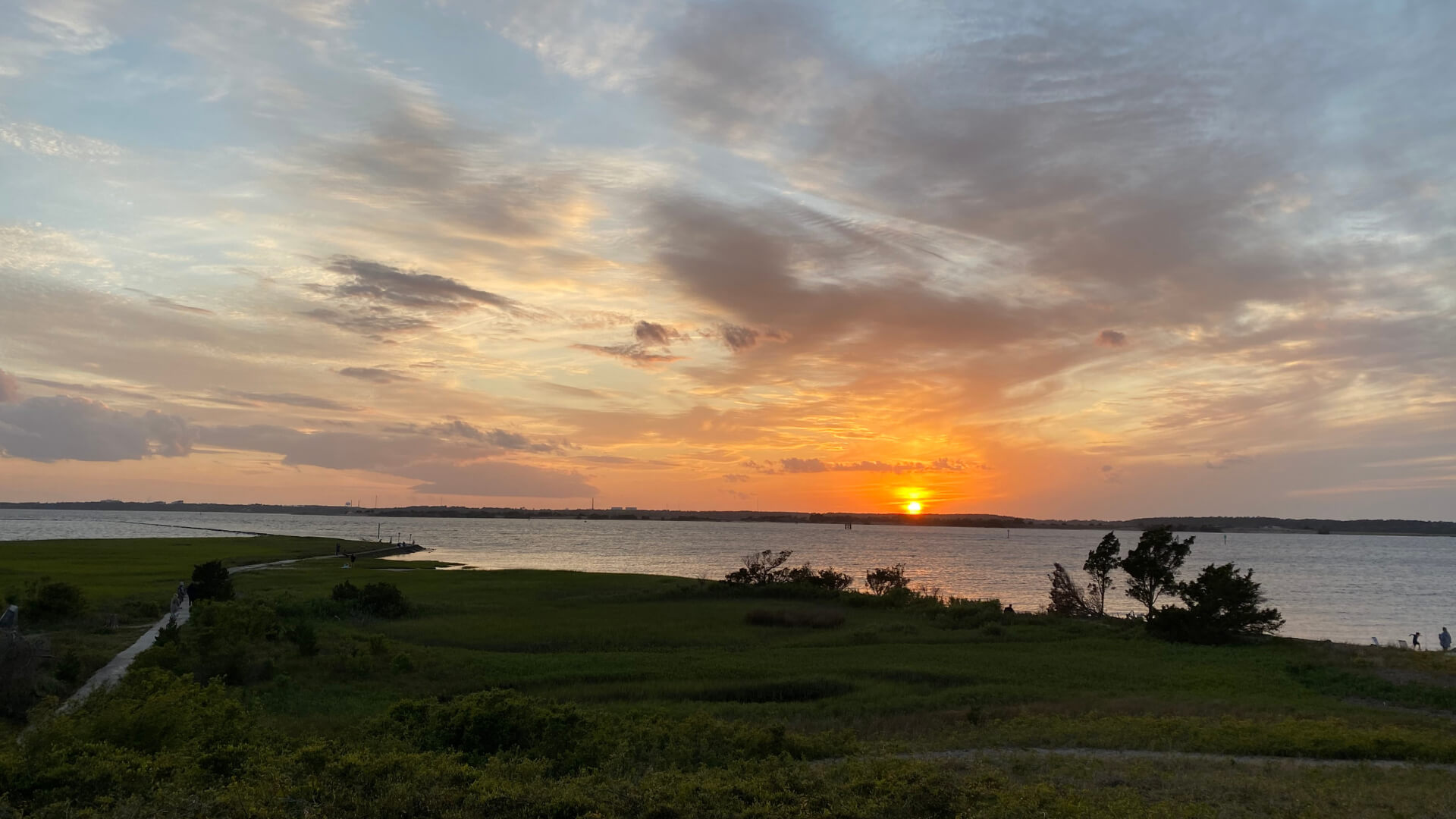 At Fort Fisher State Recreation Area, you can enjoy six miles of protected shoreline spanning the Ocean to the River. With over 288 acres that feature seashore as well as primitive trails meandering through the marsh past an actual WWII Bunker, you'll forget boredom even existed. The sandy shore, which is home to loggerhead sea turtles, piping plovers, and other uncommon and protected species, offers excellent nesting possibilities. Four-wheel-drive vehicles are permitted during the winter with the necessary permits. The parking lot is close to the Park Office and Exhibit Hall, changing room, and restrooms, as well as a shaded picnic area with grills. Dogs on leashes are welcome on the beach all year. A boating ramp and paddling launch are accessible nearby.
The Fort Fisher State Recreation Area touches both the Atlantic Ocean and the Cape Fear River. Development on this protected shoreline is limited to a visitor center and related facilities and boardwalks that attract birders and photographers. The park is popular for surf fishing, so you will need to try something new!
There are so many activities to partake in, like fishing, swimming, and picnicking! The four-wheel-drive beach and the pedestrian beach are open to fishing. Bluefish, red drum, black drum, pompano, speckled trout, and Virginia mullet are some of the most frequent ocean captures. Numerous shellfish live in the estuary with spots and flounder. Spring and fall are the best seasons for fishing. However, you can not leave fish remnants on the beach, so you need to return unwanted fish to the water. Red foxes are regarded as nest predators and they cause issues with turtle and shorebird nesting. Food and waste on the beach attract predators to areas where they may come into contact with humans, harm protected or endangered species, or feed on endangered species!
On a daily basis, approximately five miles of beach provide all the sun, sand, sea, and sky you can absorb in a day. Take in the ocean without the crowds. An elevated boardwalk from the recreation area parking lot leads over the dunes to the beach where visitors may stroll along with one of only two undeveloped sections of the coast on the southern shoreline. Memorial Day through Labor Day, the lifeguard will provide service in a designated swimming zone. Be sure to remember that the park only has foot rinse stations, though!
Fort Fisher State Recreation Area is the perfect place for a meal outdoors! Picnic tables with grills are available for use by groups or individuals looking to relax away from their jobs on a first-come, first-served basis. There is no cost to utilize them. Some of the picnic tables are accessible to handicapped persons, too.
If you're looking to take a drive, four-wheel-drive vehicles are allowed to operate within a limited corridor along the beach, at certain times of the day! There are four miles of beachfront at Fort Fisher State Recreation Area that is open to visitors in four-wheel-drive vehicles. But, drivers must follow designated routes, avoiding dunes, vegetation, and marked nesting areas. Only registered motor vehicles are allowed in the four-wheel-drive access area!
Driving Directions To Summit Roofing & Construction a Kure Beach Roofing Company Fort Fisher State Recreation Area
Driving Directions To The Joe Eakes Park