Kure Beach Ocean Front Park and Pavilion
Ian Kaplan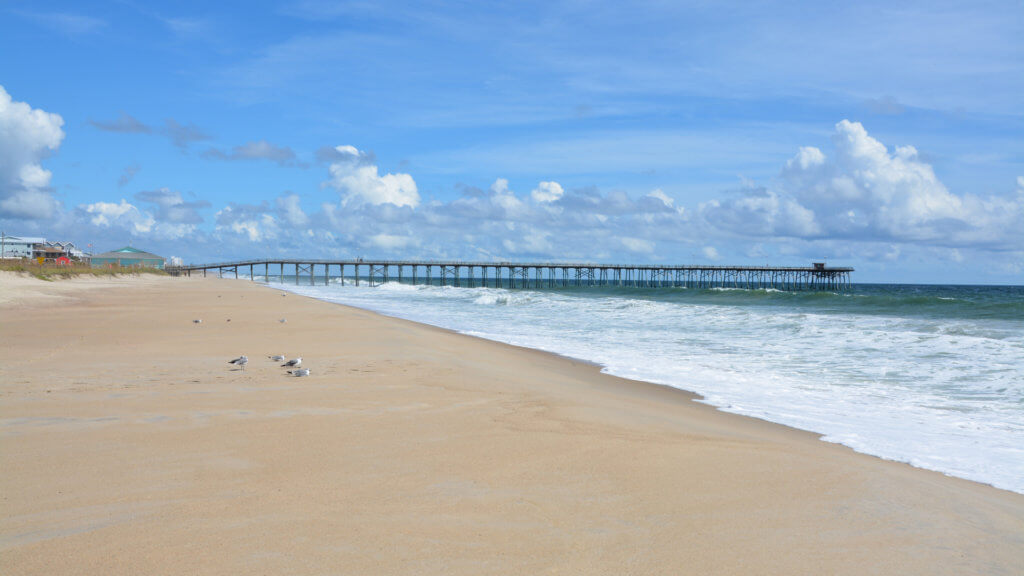 Kure Beach Ocean Front Park and Pavilion is the place to be with so many sights to see! With everything from a fishing pier nearby to a park, you can't go wrong when making this a stop on your trip. There's plenty to do at Kure Beach Ocean Front Park and Pavilion, so you'll never get bored! The fishing pier is a great place to relax and take in the sights, or you can go for a walk and explore the park. There's also a playground for the kids, so everyone can have a fun time. Kure Beach's Ocean Front Park is the perfect place to spend a day with family and friends, enjoying all that the beach has to offer!
Kure Beach's most prominent public park is the Ocean Front Park. The Ocean Front Park is in the downtown area, just north of the distinctive Kure Beach Fishing Pier. On April 26, 2013, with a spectacular grand opening, this prestigious park was established at 105 Atlantic Avenue. This magnificent pier is a fantastic addition to Kure Beach and includes an open-air pavilion with a stage for concerts, weddings, and other events, public restrooms, a walking path, a play area for youngsters, and swings – all along the beachfront!
The park's open-air pavilion, which may also be rented privately, is not available during the months of July and August or on major holidays. Get married beneath the pavilion roof with a bird's eye view of the lovely blue Atlantic Ocean, or organize a birthday party, anniversary celebration, shower gathering, or another event out from under the elements! The opportunities are endless. The public restroom facility is located at the park and is also available for use by guests during private parties.
The Kure Beach Fishing Pier is nearby and worth the visit! The 711-foot pier, which has been rebuilt recently, may be visited by tourists. They may also pick up fishing tackle, bait, rod, and reel combinations, or enjoy a visit to the seasonal convenience stand that sells ice cream, an arcade, and a souvenir shop nearby.
The family-friendly, no-alcohol-Allowed pier allows children of all ages to see miles of the coast. Bait Shop and Store is typically open from April 1 until Thanksgiving Sunday without the need for a fishing license, but there is a small charge to be permitted to fish off the pier. Pier access is free year-round to those not fishing, but interested in an ocean view.
Kure Beach is a beautiful location with plenty to do for everyone in the family. From fishing and exploring the park to visiting the playground or open-air pavilion, there is something for everyone.
Driving Directioins To Summit Roofing & Construction a Kure Beach Roofing Company From Kure Beach Ocean Front Park and Pavilion
Driving Directions To The Next Fort Fisher Historic Site