What Should I Look for When Replacing a Roof?
Ian Kaplan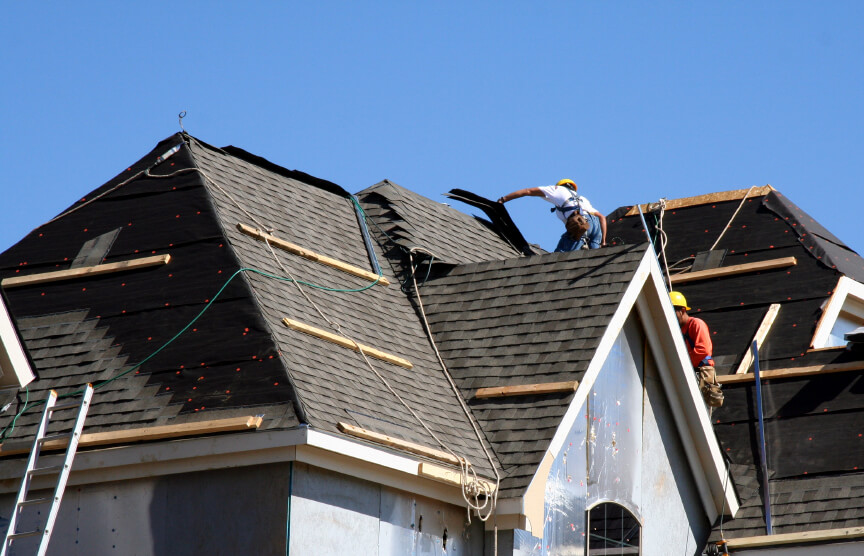 Today, we will discuss different factors that people should consider before replacing their roofs. Replacing the entire roof is a big decision, and we want to ensure you are as informed as possible before taking the leap.
So, let's get started!
How Often Should I Replace My Roof?
There isn't a definitive answer to this question since it varies based on your roof type, your location's climate, and how frequently you've had maintenance done on your roof.
In general, most roofs should be replaced every 20-30 years. However, your roof may not last as long if you live in an area with severe weather conditions (such as high winds or hail). Furthermore, if your roof is inadequately ventilated or has not been maintained on a regular basis, it will most likely need to be replaced sooner.
We know this is somewhat vague, but it really does depend on everyone's unique situation. You should always consult a professional before deciding it's time to replace it. Who knows, maybe you just need to replace a few shingles to get several additional years out of your roof. You never know unless you ask.
How Do I Know When It's Time To Replace It?
There are a few indicators that can show you when it might be time to replace your roof, such as:
Curling, cracked, or missing shingles
Water damage on the walls or ceilings or a leaking roof
A rotting roof caused by too much moss or lichen on your rooftop
Sunlight that's visible through the roof boards
It May Be Time To Confer With a Roofing Contractor
If you detect any of these symptoms, getting an expert evaluation is critical. They'll be able to tell you how much life your roof has left and if critical roof repair or replacement is required. They can also provide a cost estimate for repairs or replacement and advise you on the best products for your new roof.
What To Look for in a Roofing Contractor
Choosing a roofing business is one of the most significant decisions you'll make for your house. You want to be sure that they are professional, honest, and experienced with the type of roofing system you desire. There are many types of roofs available these days, so determining which is best for you might be difficult.
How To Find a Roofer Near Me
If you're looking for a roofer near you, the best place to start is by asking your family and friends if they have any recommendations. Once you've compiled a list of potential contractors, be sure to do your research. Read online reviews, check with the Better Business Bureau, and make sure they are properly licensed and insured.
When you've finally chosen a roofing contractor, be sure to ask them about their experience installing the type of roof you desire. Get multiple bids and compare them before making your final decision. Be sure to ask lots of questions so that you feel comfortable with your choice.
Beware that sometimes, when a natural disaster strikes an area, out-of-town roofers will swoop in like vultures and try to take advantage of desperate people in need. They overpromise on quality and timeline, offer too-good-to-be-true pricing, and then they scam citizens out of money and do shoddy work. Then, they skip town, leaving devastated people with another mess to clean up. It's unfair and unjust, so make sure you choose a local company that will have your back and will make the necessary repairs in an honest fashion.
Summit Roofing & Construction is the local expert for residential roofing in Wilmington. They offer quality solutions to your roofing and siding problems at an affordable price. Call today to speak with one of their experienced team members and schedule a free roof inspection or get a roof repair or replacement cost estimate.
Factors That Influence Your Roof's Lifespan
Here, we will briefly touch on how things such as the type of roofing material, age of your roof, climate, etc. can affect the lifespan of your roof.
Roofing Materials
The lifespan of your roof largely depends on the type of shingles you choose. For example, asphalt shingles are one of the most popular roofing materials and can last up to 30 years with proper maintenance.
The most cost-effective option is an asphalt roof replacement. An asphalt roof replacement usually also takes the least time, and it's easier to repair asphalt roof shingles than tile roof shingles.
If you reside in an area that experiences harsh weather, however, asphalt shingles might only endure for 15-20 years. In that case, an asphalt roof replacement may be less expensive upfront, but it will have to be done more frequently.
Alternative Roofing Material Options
Other roofs, such as metal roofs or tile roofs, can last considerably longer – sometimes 50 years or more. Metal roofing systems are becoming more and more popular. A metal roofing cost estimate will likely be lower than an asphalt roof replacement cost estimate, depending on the type of metal you use and how big your roof is.
Many people who are building tiny homes are choosing to use a metal roof instead of an asphalt roof because they don't need a roofing contractor, it's cheaper, and if they ever need a full roof replacement, they can just take their old roof off and replace it with more metal themselves.
Age of Your Roof When You Purchase Your Home
The average lifespan of a roof is 20-30 years, but there are other conditions that may cause it to degrade faster. For example, if your attic isn't ventilated or you haven't been maintaining your gutters, you may need a new roof sooner than the standard timeline.
If your roof was already halfway through its lifespan when you bought your house, you might feel overwhelmed when it's time to replace the roof 15 years down the line. When roofs start to go, they tend to deteriorate quickly. So, if you're in the process of buying a home, one of the main questions you'll want to ask your realtor is how old the roof is.
Local Climate and Weather Patterns
The climate you live in can also impact how often your roof needs to be replaced. For example, your roof's lifespan may be reduced if you reside in an area with more extreme weather conditions (such as frequent high winds or hail). Furthermore, if your roof is exposed to the sun more frequently, it might degrade quicker and require replacement sooner.
Regular or Irregular Maintenance
The type of roof you have and how well you maintain it will influence the amount of time it lasts. A roof that is inspected and repaired on a regular basis will last longer than one that is not. To avoid rust and corrosion, clean your metal roof regularly if necessary.
This is another factor to consider when buying a home. If you're trying to buy a home that's been vacant for a long period of time, you might run into trouble with the condition of the roof. Even if not given routine maintenance, a home that's lived in is usually better off than a vacant property.
What Is the Average Roof Replacement Cost?
There are numerous factors that contribute to the cost of a new roof, such as the size of your roof, the type of roofing materials, the contractor you select, and the location of your home. On average, homeowners spend several thousand dollars for a complete reroof; though, if you reside in an area with volatile weather conditions or have a bigger than average roof, those prices will be higher.
If you have a dripping roof, sagging roof, or extensive water damage to your current one, it might be time for more than just a new roof. Sometimes shingles and waterproofing tar can't fix the whole problem. To ensure your new roof lasts, you may need to replace old roof sheathing or rotten joists inside your house and any drywall or insulation that got wet.
We Hope This Helps Your Search for a New Roof!
At the end of the day, several factors influence how often you need to replace your roof. The sort of roof you have, its age, the climate in which you live, and how well you maintain it are all factors that will influence when a new roof is required.
If you detect any indications that you might need to replace your roof, it's critical to have it inspected by a professional. Some roofing companies, such as Summit Roofing & Construction in Wilmington, will give you a free roof inspection. Consult with an expert to obtain a more precise assessment of how much life your roof has left and whether or not replacement is required.